An Invitation from Massachusetts Institute of Technology
May 5, 1968
Prabhupada was well aware of the worldwide prestige of the Massachusetts Institute of Technology in Cambridge. Many Indians went there to study. It was, in fact, an Indian organization that invited Prabhupada to speak. When Prabhupada arrived in the evening, he found over a hundred people waiting in the carpeted, luxurious student lounge where he was to lecture. Some students were sitting on the floor, while others sat on the leather-upholstered couches and chairs scattered casually throughout the room.
Although it was time for the lecture to begin, the devotees had still not arrived with the paraphernalia. There was no flower garland for Prabhupada, no painting of Krsna, and no sign with the maha-mantra. The audience waited.
In anxiety, Satsvarupa asked Prabhupada, "Can you begin without the painting?" Looking at the large, momentous gathering, Srila Prabhupada said simply, "Painting is not important." He sat on the plain wooden platform and, since the musical instruments had not arrived, asked one of the devotees to play the Hare Krsna album. Prabhupada sat clapping his hands in time and listening.
(Prabhupada-lila, SPL 7-3: A Visit to Boston, 1968)
Prabhupada speaks boldly
Prabhupada spoke boldly, challenging the very concepts underlying MIT. Where in this big university, he asked, is a department for studying the technology of the soul, for understanding that principle which distinguishes a living body from a dead body, that principle which when present in the body gives life and when absent brings death? Where is the science to study this all-important principle of life? Although scientists consider life to be merely chemicals or electric impulses, he argued, still they are unable to assemble the chemicals and produce life. Why? There is no department in this university for answering this question, and therefore people are in ignorance. They don't know the self or the next life or the purpose of human life beyond animal activities. This science, however, is taught in the Bhagavad-gita.
(Prabhupada-lila, SPL 7-3: A Visit to Boston, 1968)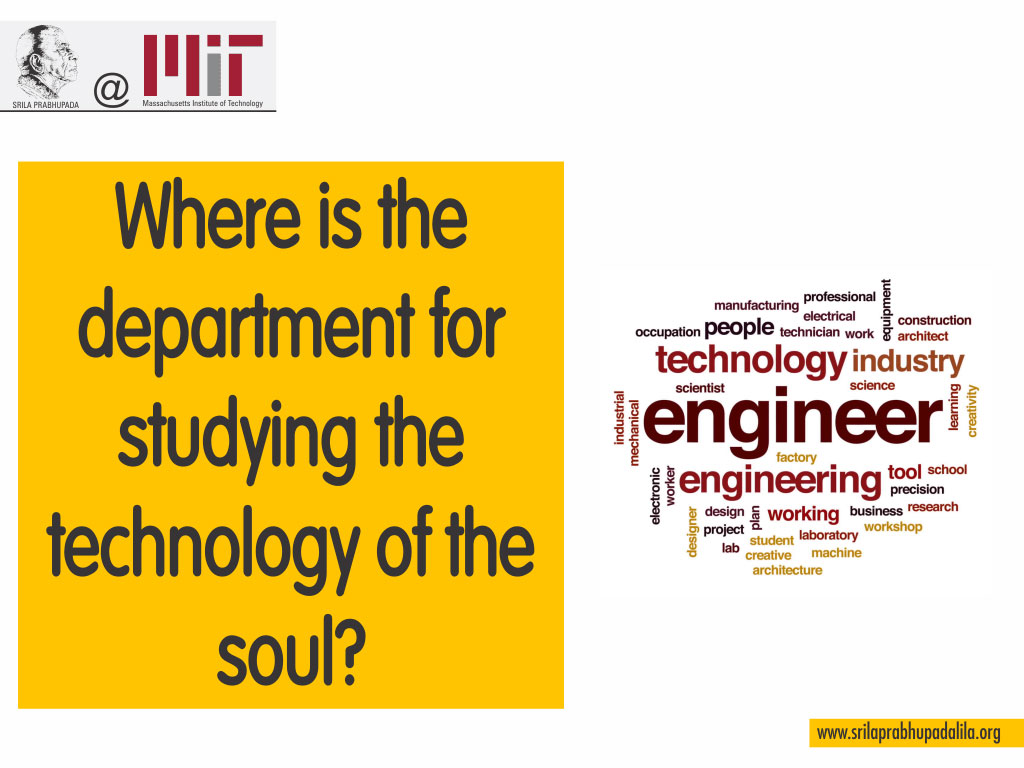 indriyani parany ahur
indriyebhyah param manah
manasas tu para buddhir
yo buddheh paratas tu sah
The working senses are superior to dull matter; mind is higher than the senses; intelligence is still higher than the mind; and he [the soul] is even higher than the intelligence. (Bhagavad-gita 3.42)
We have got technology for the bodily senses, we have got technology for psychology, but we have neither any technology for intelligence nor for any technology in the science of the soul. The Krsna consciousness movement is the technology of the science of soul.
(Lecture to Technology Students (M.I.T.) - Boston, May 5, 1968)
Six very important questions
Unfortunately, we have no time, neither we have desire to understand actually what I am, why I am suffering, what is this world, what is my relationship with this world, what is God, what is my relationship with God. These questions are very important questions, and there is technology to understand these questions.
(Lecture to Technology Students (M.I.T.) - Boston, May 5, 1968)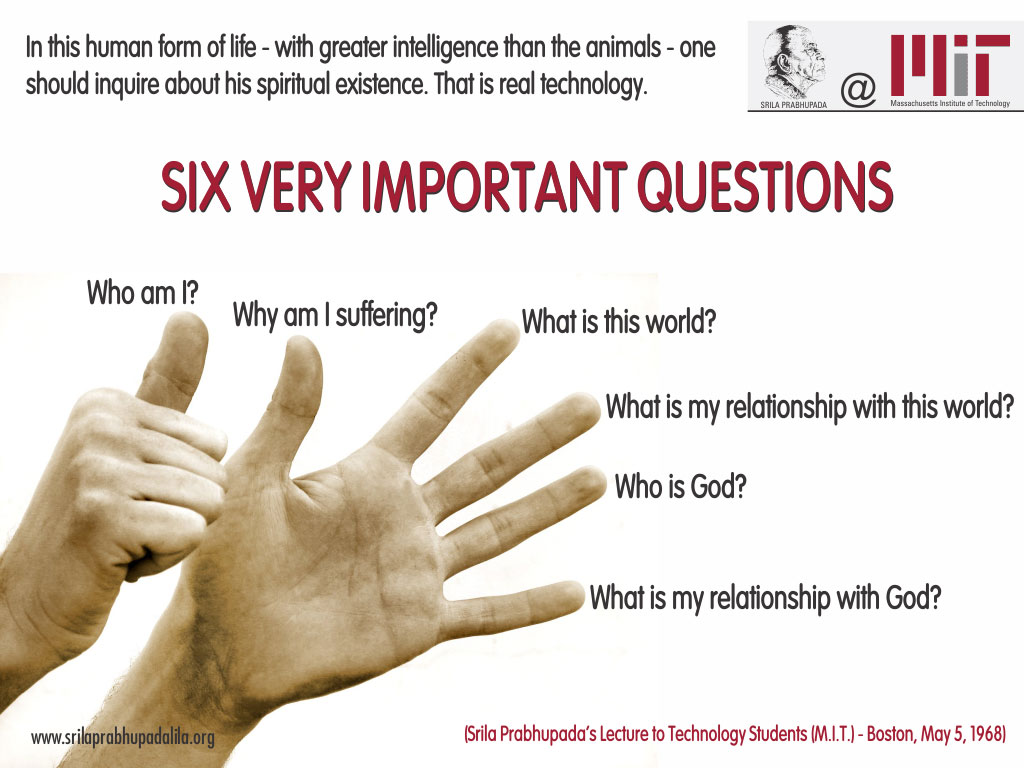 Prabhupada tells a story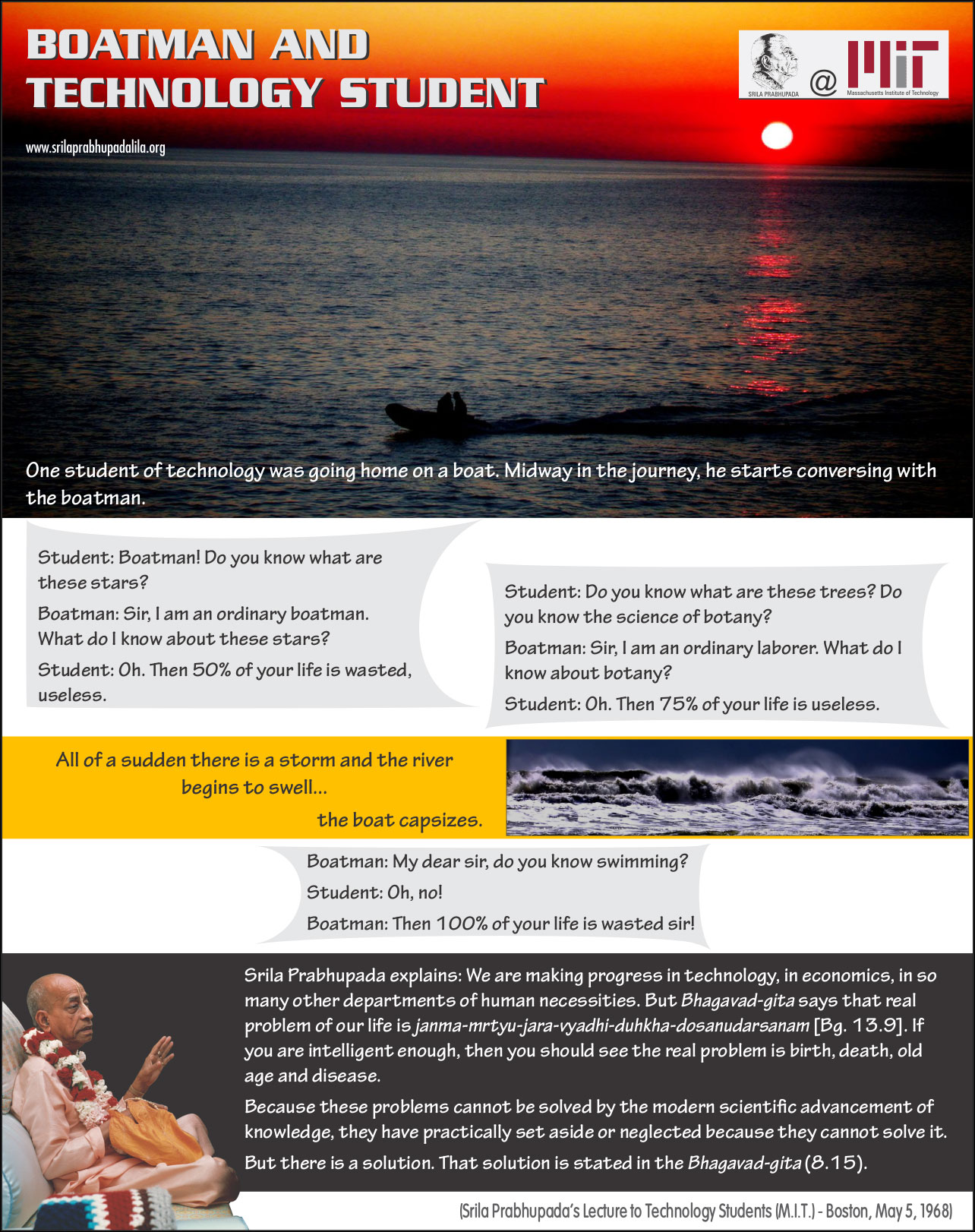 We do not ask you to stop your technological advancement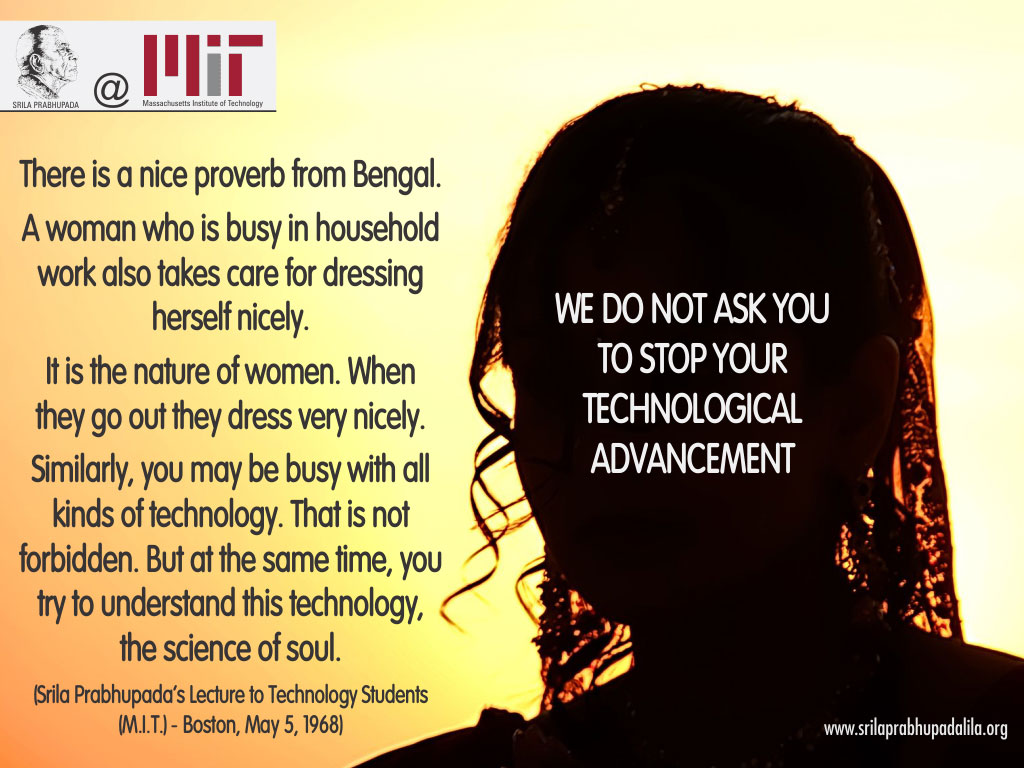 Next Episode: Faculty and students challenge Prabhupada